We acknowledge the Traditional Owners of country throughout Australia and recognise their continuing connection to land, waters and culture. We pay our respects to their Elders past, present and emerging.
Earlier this year Your Creative director James Lim travelled to Broken Hill for a truly unique brief, to create a visual identity for FreshBark, a mentorship program for emerging Indigenous artists in regional News South Wales. The program encourages a new wave of contemporary indigenous artists to be fresh; to be new or different by introducing new mediums, subjects and ways of working to it's participants.
Bark references the tree while borrowing from our Barka (the Barka-Darling River). To have FRESHbark implies the growth of a tree as inevitable and that change is constant.
Fresh Bark is a new wave of contemporary indigenous artists with alternative ways of looking at environment, experiences and culture. The program was set up for artists to honour the past and to take that culture with them, advocating for a better future. A platform for artists to share their work, stories and history.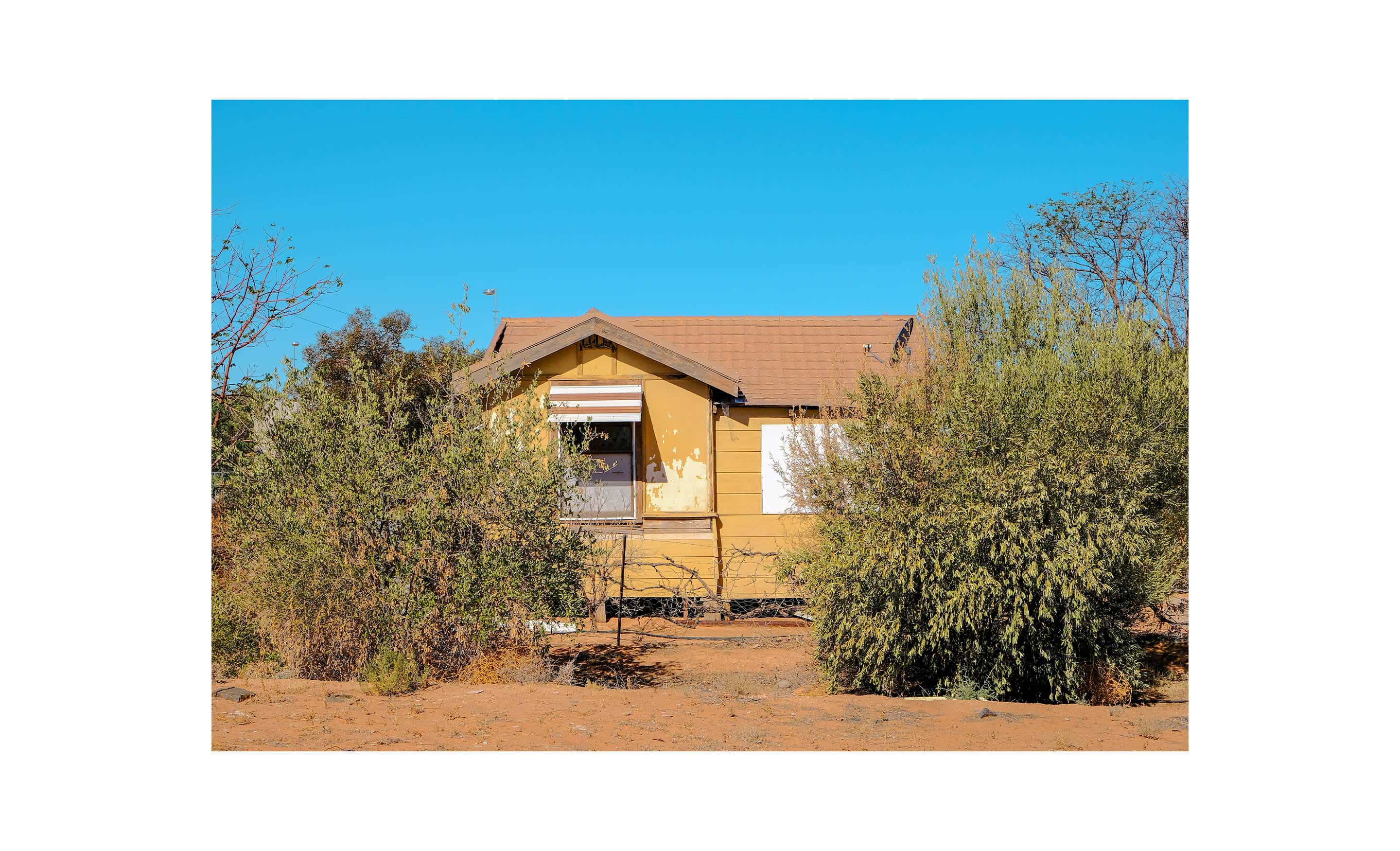 A voice for change and advocacy
These communities don't have the professional development, education and support that we are lucky to have in major cities. The art institution, art practice, gallery, and regional arts network struggle to receive the funding and recognition they deserve. Often forgotten or without the voice, opportunity or platform to tell people about it. Our goal was to aid the voice and recognition of the program and region, to  reach as many people as possible through their stories and art. And show that there is an artistic substance in these regional areas with creative, amazing people doing incredible things. 
Creating authenticity through Place
The project centres on cultural elevation and communication. We needed to become engrossed in the program, it's philosophy and the people involved because an identity and story was already there – we just had to put it on paper. 

Meeting people, hearing their stories and understanding the importance of the project at the grassroots. 
This wasn't a project that we could have created sitting at a desk in Brunswick. We spent three days in Broken Hill documenting and visiting the artists. Working closely with the Broken Hill Regional Art Gallery we learnt about the community, lifestyle, stories, influence and inspiration of these young artists. The underlying theme of water and drought throughout the catalogue was only discovered once we started talking with the artists and community. Walking out past the town and into the desert, carcasses scattered every few metres would show the devastation the drought had caused. We spoke with community members about the impact that pipelines have had on the Darling River. What used to be a thriving ecosystem has become poisoned. Yet, amongst the hardship, there was an amazing group of people using art to express their experience and knowledge with others. And it was our duty to help share this story.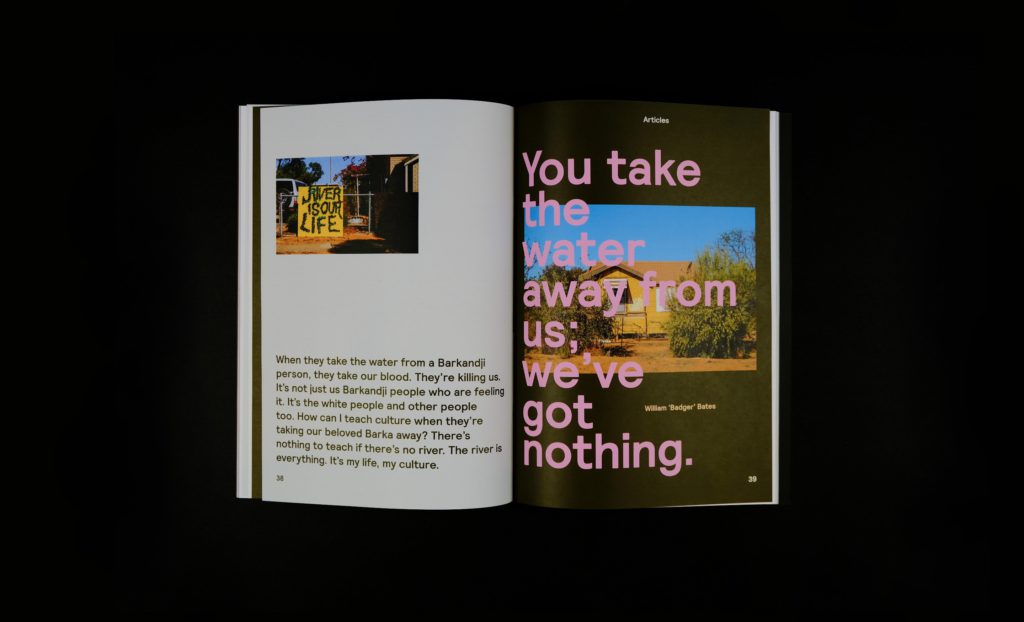 Lessons we brought back to Melbourne.
Expression brings light 
The artists were empowered that we were spending the time to listen and hear their story – grateful that there was an exhibition for them to present their work. We were empowered by hearing those stories. They were so driven and passionate about their art and their practice because it was a way to connect with the past, present and future. Even though these communities and kids have experienced such hardship. They are still creating amazing, beautiful art, in a really positive light. Their lightness of spirit is how they overcome these challenges and share them with others. 

Preserve and elevate  
Letting artists tell their own story through their own style.  When we got the brief, we thought it was going to be about cultural preservation but it was actually about cultural elevation. To provide a platform to help communicate how awesome indigenous and regional culture is. A platform for cultural, community and political expression. 
The exhibition allowed these artists to break free from any constraints of traditional indigenous art. It was helping artists realise that they can create whatever they want and express themselves however they feel and not feel confined to a certain style. Which is what we wanted to communicate with this project; amazing indigenous artists in regional areas who are embracing their own art style. Each with their own medium and philosophy.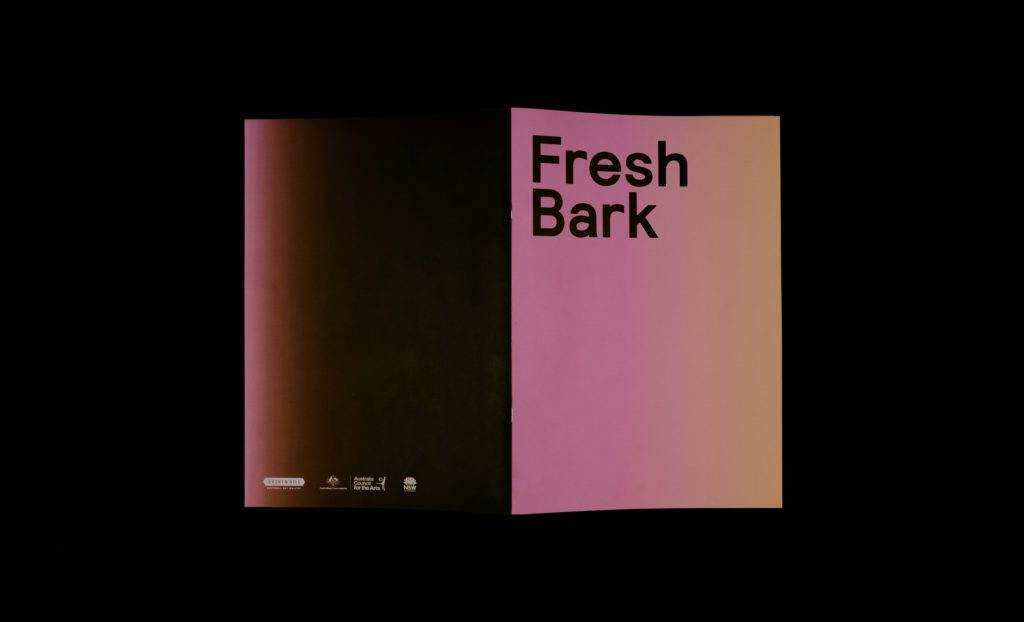 Good design is good storytelling. 
The essence of good design is good communication. The ability to communicate a complex and multifaceted idea in a way that can be consumed and enjoyed by many. 
FreshBark was divergent from traditional branding projects, it was about telling a story with a design that people could embrace and make their own. Being out of the studio, out of our comfort zone and into the shoes of those we are designer for allowed us to fully understand the importance of the project. Good design is often distorted when we start to think about the opinions of other designers and traditional design rules instead of the story we are trying to tell. Focusing on the people, the problem, the solution and referring back to the purpose of the project helps reinforce the power of design. 

Authenticity creates influence. 
Awareness branches out like a spider's web – benefiting people and communities in ways that you can never truly estimate. 
The collaboration with the Broken hill regional art gallery has been a catalyst for the progress and development of FreshBark. The talented Indigenous and non-Indigenous facilitators and emerging artists have come together in this project are making history. A region that has come to understand the importance of first peoples and their role as knowledge keepers and ambassadors for the natural environment and societal inclusion. 
Programs such as this are an integral part of any thriving community – showcasing culture, stories and artists. Especially for regional and indigenous communities where arts funding is much more difficult to acquire.  Art facilitates the expression of thought, history, emotion and ideas in a way that can't be communicated in words. But more importantly, it brings a community together for mutual benefit. Fresh Bark and Broken Hill Regional Art Gallery are supporting the growing Aboriginal Art Sector. And this exhibition has provided its participants with knowledge and experience that would otherwise not have been accessible.