Melbourne Design Week (MDW) is an annual 11-day program of talks, tours, exhibitions and workshops that celebrate and interrogate design through its varied disciplines, including: communication design, industrial design, service design, gaming, architecture, landscape architecture, urban design, fashion, craft and functional art. MDW is an opportunity for people within these disciplines — including designers, educators, thinkers and businesses — to come together to share ideas, show and sell new work and consider how design can be used as a force for good in an increasingly complex and precarious world.​​​​​​​ 
As part of Melbourne Design Week 2023, Your Creative hosted an event to discuss the role communication design plays in creativity and positive impact. From simplifying complexity to learning about having bad relationships with design, the night saw four speakers talk about how storytelling benefits our community and planet.
Lauren Crystal on Finding the Beauty in a Complicated Brief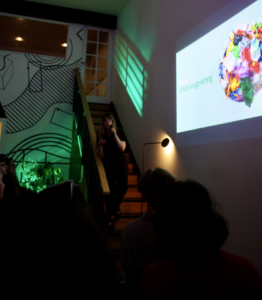 One of the biggest issues in the tech space currently, is the greenwashing that inevitably comes with it. The real turnaround has been when the people who make the problem become aware and want to also become the solution. Through the examples of two clients, Lauren demonstrated that there was beauty to be found in an 'ugly' (read: lots of content complimented by even more jargon) brief — that fine line where one flips the perspective. That can be hard, especially when creative briefs from tech clients can often come with complicated research that is hard to get behind. In most cases, there isn't a marketing department to give you a real 'brief' either. In this case, Lauren's advice? Buckle up, because you're about to dive in. Academic research is vital to understanding and finding your audience, communicating goals and achieving them.
"Take a step back. The solution can't just be what the client wants, it has to be what the industry needs."
Max Piantoni on combining Traditional Storytelling with Technology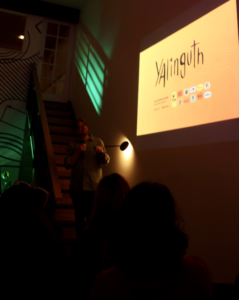 To do justice to Yalinguth, an app that shares personal stories of the history and experiences of Aboriginal and Torres Strait Islander peoples, Max and the Yalinguth team had to really focus on the process of co-creation. 
Under development since 2018, the app tells stories through 'spatialised sound' that unfolds in real locations around Gertrude Street in Fitzroy. Max emphasized why co-creation was so important — the community was an essential part of understanding why the app was being built. Being able to reach out to the indigenous community, build trust and start gathering real stories and experiences was key to this project. A few voice bites from the app were played through his presentation, to give us a glimpse into what the stories sound like in-app. 
Launched in 2021, Yalinguth is available to download. The next time you're in Fitzroy, bring your headphones for an immersive experience of historical storytelling.
Mary Crooks on Together Yes and the Importance of a Narrative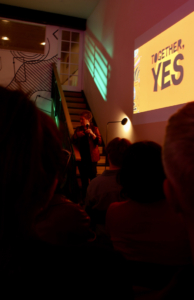 Executive Director of the Victorian Women's Trust, Mary Crooks, has a lot of projects up her sleeve. Her current focus lies as Project Director of 'Together Yes', a unifying movement leading up to the Voice Referendum. Together Yes uses a tried and tested method — the Kitchen Table Conversation — created by The Victorian Women's Trust over 20 years ago. 
"We haven't got an idea; we've got a method that works."
Mary talked about building a strong narrative to help fuel conversations. However, the narrative needed a brand that would signify the same. Working closely with Your Creative, the brand and colour palette took inspiration and permission from participating indigenous artists. 
The content remains informative, broken down into a simple process to aid the understanding of a topic that has often led to more questions than answers in mainstream media. Through close collaborations, a continuous feedback loop and audience testing, the end result has led to community engagement that people can trust.
James Lim on having a Complicated Relationship with Design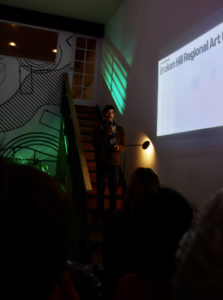 Our last speaker for the night took on a topic that often gets overlooked — knowing when you're in too deep with design. In this specific scenario, he talked about a specific client wherein the excitement for a design brief caused the team to miss out on a specific audience segment. 
The initial brand research led the design team to an on-site visit, which inspired the entire brand. During this visit, they spent time with resident artists and the creative community at the site. However, it was only post the actual completion of the project that problems began to crop up — including the locals and council opposing the new brand refresh.
By the end of this project, while we, unfortunately, didn't get to see the brand go live, James left us all with an important lesson on learning how to take off the design blinders and accounting for every audience segment.